Are Garage Door Springs Dangerous?
With an overwhelming amount of information available on the internet, it is easy to master several home maintenance jobs. However, if you talk about garage doors, the situation is different. The springs in garage doors involve extreme forces, and it is for this reason that manufacturers provide warnings – they certainly understand the risks.
Since the advent of torsion springs, the reported injuries are rare, as these are safer. However, garage door springs can be dangerous when mishandled or if they go bad.
This is not a garage door spring 101 blog. It is intended to acquaint you with the circumstances under which the springs can be dangerous and how you can avert the risks.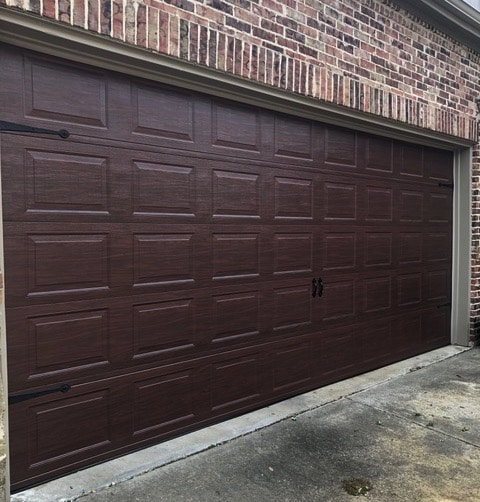 Types of Garage Door Springs
To better access the uncertainties, it is essential for you to understand the type of springs employed in any garage door.
So here is a quick look at those.
Basically, there are two types – torsion and extension springs. Torsion springs are attached just above the closed garage door and are relatively advanced as well as safe. However, extension springs are attached to both sides of the upper track. While torsion springs are expensive and ideal for medium to big sized garage doors, extension springs are inexpensive but give a jerky motion to the door.
Springs and Safety
Garage door springs are compact but very powerful. They play a massive role in smoothly and quietly opening and closing the garage door. However, they remain under a lot of tension, which makes them dangerous to install or fix, especially if you are a non-specialist.
It is common for people to get injured by garage door springs that just snap off unanticipated as these springs depend on tension to operate. While closing, the force exerted through cables help wind the springs. And when the door opens, this energy is released to unwind.
But if the springs are not working as they are supposed to and if these have been installed for quite a long time, or if the door itself is quite old, this needs attention. Let an experienced contractor inspect the situation to make sure you remain safe. Until then, stop using the door.
Identifying Dangers
Most dangers of garage door springs arise when these go bad. As the spring holds the garage door's entire weight, it is essential to be regular with the upkeep. However, just like how an aching head does not signal a tumor, a little squeaking also does not indicate a severe problem. Some lubricant onto the springs can fix the noise. But there are other majorly noticeable factors as well that help you determine the potential hazards.
Fatigue is the most common cause of springs going bad as they are designed to last about 5 to 7 years, and when overworked, these result in a catastrophic failure.
Rust and corrosion is also a common cause of spring failure.
Safety cables may not be in place.
Also, when the garage door is down while fixing or installation, danger looms.
Installing the wrong springs invites a whole lot of problems.
Tightly or loosely winding the springs is a big mistake to watch out for.
Abrupt and noisy opening and closing motions of the door are also the sign of springs not functioning well.
Continuous difficulty in operating the door too signals that the springs may be out of balance.
A lack of maintenance weakens the metal, which again results in sudden failure.
DIY replacement or installation without the right tools or expertise leads to dangerous accidents.
Even if you are noticing the signs and fail to fix them, the result can be harmful. You are only increasing the list of worn and broken parts. Also, a wise person knows that such chores are better left to the pros. Why? Because they are experts, and they are aware of the potential dangers. They can choose the correct spring for your garage door from the wide variety available in the market. Moreover, installation is an art – you can certainly fix things yourself, but improper installation can either injure you or harm the door.
All in all, calling an expert only saves you, your time, and money, which you can probably invest in something better. It is no joke, and you better be safe than sorry.
Do Not Let The Springs Fail You – Contact Professionals At Reliable Garage Door Repair!
Safety is of utmost importance when it comes to the proper functioning of your garage door. Fortunately, there are ways to keep risks out of your way and prevent the likelihood of sudden failures presented by garage door springs. But inevitably, many people try to fix the issues themselves. However, it is best if you always have a professional inspect the condition of your garage door springs.
The task is more complicated than you can imagine. You may have to invest time in understanding what goes where, plus you end up wasting time in repeatedly running to home improvement stores and gathering the supplies, or you may even get hurt. It is easy to Google how to fix a broken garage door yourself, but calling a professional is even easier.
Therefore, save time and headaches – call a pro ASAP! 
Service technicians at Reliable Garage Door Repair are here to help. If you are on this page, you might be experiencing some problems with the springs or might face it in the future. We assure you that you can totally trust our services. We have been serving Texas with its residential and commercial garage door needs for three decades. Our customers have faith in us – and so can you!
Call us at 469-778-4241 for better assistance or contact us online and we will get back to you soon.
Reliable Garage Door Repair offers same-day 24/7 emergency garage door repair for residential and commercial properties in the North Texas area, backed by 35 years of experience.
Areas We Serve:
Prosper, TX
Frisco, TX
Aubrey, TX
Little Elm, TX
The Colony, TX
Denton, TX
Celina, TX
McKinney, TX
Princeton, TX
Allen, TX
Plano, TX
Richardson, TX
Dallas, TX
Carrollton, TX
Grapevine, TX
1061 N Coleman
Prosper, TX 75078
469-778-4241
https://www.facebook.com/reliablegaragedoorrepair
https://www.pinterest.com/reliablegaragedoorrepair
https://www.linkedin.com/company/reliable-garage-door-repair-tx
https://www.youtube.com/channel/UC0073vh5QZN5qkUhz-CbxJQ
Experienced. Fast. Reliable.
Our experts are here to help 24/7.