Can A Garage Door Work Without Springs?
A garage door is one of the most significant parts of our homes or workplaces. Its working mechanism relies on different components, including the springs, which are the most crucial parts of the door. A garage door cannot function without springs for the most apparent reason that these help counter the gravitational force on the door. These are very important for you and the door's overall safety. Garage door springs are supposed to make the door light enough for the garage door opener and you to lift it easily. Plus, it's on these springs to operate the door with maximum efficiency.
Garage Door Springs
Before everything else, you need to understand what this critical component is all about. Garage door springs are a tiny part of the garage door that work to lift and close the door with absolute ease and smoothness. Without a spring, the garage door is, at times, impossible to lift. This is also why you must take its maintenance seriously.
Garage door springs have a limited lifecycle, and inadequate maintenance efforts can further reduce its lifespan. Usually, garage door springs work 10,000-cycles upon correct installation and proper upkeep. If you use the door twice or max, four times every day, the springs can last around 7 to 14 years. But when springs break, they cause the door, its opener, and the cables to malfunction. Not having the right springs or ones that are in a poor shape directly affects the movement of the door – it may stop, get stranded, or collapse, causing inevitable damage.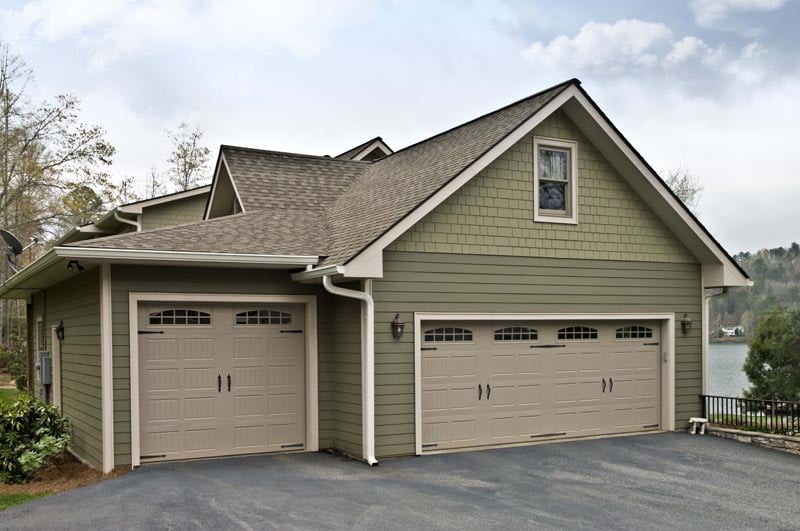 Reasons Springs Are Important
Every garage door needs different types of springs to suit their particular needs. Why garage door springs are an essential component of the garage door is because of the following reasons:
Safety
It isn't enough to have a garage door to safeguard the space. Having good quality and properly maintained garage door springs offers smooth and safe functioning of the door. Plus, these ensure the door doesn't shut or fall abruptly, leading to dangerous accidents.
Movement
One of the significant advantages of having springs on the garage door is to initiate a proper movement. An average garage door weighs somewhat around 140 to 400lbs. Sure the opener makes the door go up or down, but it's the springs that induce this process and make the door work against gravity without causing any serious injuries, even if the opener fails to work. Also, the more you open and close the door, the sooner you'll need to replace the springs.
Convenience
You don't have to manually lift or close the door, especially automatic ones with springs in excellent condition. Once you employ the opener, garage door springs take over the duty to raise or lower the door.
Types of Garage Door Springs
If you have a garage door at home or office or you're thinking of installing a new one, it's essential to know the components that make the door safe and functional. Most residential garage doors have two major types of garage door springs – extension or torsion (never both).
Extension Springs
No matter the size of the door, one that uses extension springs employs two or four springs on either side. Extension springs are fully stretched when the door is leveled down. These springs take the weight of the door, and that tension itself helps pull the door upwards. Therefore, springs on both sides need to be installed with precision and in the same position. Otherwise, the door becomes noisy, hard to operate, and also affects the other components. These are easy to install and are fixed with safety cables, so if the springs break, the wires prevent them from flying off dangerously. Extension springs are budgeted and ideal for overhead single-car garage doors.
Torsion Springs
Today, torsion springs are most prevalent in households, and they employ a torsion system to support and balance the door. Torsion springs are installed directly above the garage door and don't contract or expand like extension springs. These also vary in number and have a complex installation based on the size and strength of the door. Most heavy-weight residential garage doors use standard torsion spring, which is supported by the metallic shaft. However, the safest of all are torque master springs that remain enclosed inside the torsion shaft right at the end of the torsion rod. Torsion springs are expensive and ideal for two-car garage doors.
Garage Door Spring Failure
You may not visibly see a broken spring, but some signs can warn you of a failure. It's sporadic that springs break dangerously, and it's only under certain circumstances that something this unfortunate might happen. However, such an incident is possible only if the springs are affected by the following reasons:
Inferior quality
Rust formation
Regular wear and tear
Temperature change
Inappropriate (or DIY) installation
Poor Maintenance
All of these reasons leave the springs susceptible to damage over time. Rust leads to increased friction, cheap quality springs aren't able to perform as expected, winter season causes the metal to shrink slightly, and regular wear and tear is evident. Springs are designed to last only a few years – not forever. Thus, poor maintenance imbalances the door. Nothing too extensive is required – but even if minimal care isn't practiced, the springs begin to weaken. Rust prevention, balance checking, and bi-yearly cleaning is all that it takes to reduce the wear and tear, preserving the springs for longer.
Need Help With Garage Door Springs? We Can Help!
All garage doors require springs to serve their purpose. One without a spring may not be able to lift the door. Also, if your door has springs, there's no convenient time for it to give out! This is when our services come into the scenario. We, at Reliable Garage Door Repair, are a 24/7 North Texas garage door repair service provider. With 35+ years of experience, we ensure fast and reliable installation, repair, and replacement services backed by 100% customer satisfaction. Our trained technicians can handle all your requirements – big or small. You can call us at 469-778-4241 or get your quote online – we're one of the most trusted commercial and residential garage door services providers in Texas.
Reliable Garage Door Repair offers same-day 24/7 emergency garage door repair for residential and commercial properties in the North Texas area, backed by 35 years of experience.
Areas We Serve:
Prosper, TX
Frisco, TX
Aubrey, TX
Little Elm, TX
The Colony, TX
Denton, TX
Celina, TX
McKinney, TX
Princeton, TX
Allen, TX
Plano, TX
Richardson, TX
Dallas, TX
Carrollton, TX
Grapevine, TX
1061 N Coleman
Prosper, TX 75078
469-778-4241
https://www.facebook.com/reliablegaragedoorrepair
https://www.pinterest.com/reliablegaragedoorrepair
https://www.linkedin.com/company/reliable-garage-door-repair-tx
https://www.youtube.com/channel/UC0073vh5QZN5qkUhz-CbxJQ
Experienced. Fast. Reliable.
Our experts are here to help 24/7.