Can I Replace A Single Panel In My Garage Door?
It is not that uncommon of an issue for a single panel on your garage door to get damaged. You may be wondering if you can replace a single panel, or if you need a bigger repair. We're here to tell you that yes, you can replace a single panel. You don't always have to get a brand new door when your current one gets a little damaged. There are various reasons for a worn out panel, but we'll show you how to get yours fixed.
Before you go for replacing the panel, there are certain things to keep into consideration. They are as follows:
Year model of the garage door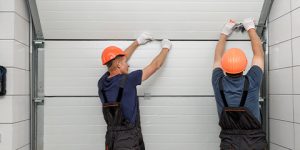 According to our professionals a normal garage door successfully lasts for about 25 years. A lot can happen in 25 years, including making new garage doors and panels that may not be compatible with your model. So, before you choose the desired replacement, make sure the match is the same as your old one in terms of the basic properties like the style, size, weight, and quality. If you compromise on any of these four then you are not going to have a good time.
Analyze the damage
Analyze what kind of damage has been done to your panel, whether it's a normal wear and tear or the damage is more severe. If the damage is normal then it can be easily covered with the products like wood fillers, or paints to cover up the scratches or cracks. If the damage was intense like the door was hit by the car then there is no option left but to replace it.
How costly is the replacement
This is usually a question of quality. A single panel repair generally doesn't stop your garage from working. But it doesn't look very good either. If you want your garage door to look good as new, the safest bet is to go with a professional service to get it fixed. It's obviously more costly than doing it yourself. But a professional will save you time because they already know what they're doing, and they are much less likely to mess up the repair, thus, preventing future damage.
Check the model
Once you have finally decided to replace the single panel make sure you check out its model and quality. The outer covering might look way awesome but what you care about is its compatibility with your door.
If you have taken all the above points into consideration then the answer is yes! Now you may easily replace your damaged panel with the perfect looking one. But then again be careful to handle the spring system of the bottom panel with utmost care. It can cause a serious injury if it's mishandled.
For all your garage door and repair needs, call Reliable Garage Door Repair at 469-778-4241!
Reliable Garage Door Repair offers same-day 24/7 emergency garage door repair for residential and commercial properties in the North Texas area, backed by 35 years of experience.
Areas We Serve:
Prosper, TX
Frisco, TX
Aubrey, TX
Little Elm, TX
The Colony, TX
Denton, TX
Celina, TX
McKinney, TX
Princeton, TX
Allen, TX
Plano, TX
Richardson, TX
Dallas, TX
Carrollton, TX
Grapevine, TX
1061 N Coleman
Prosper, TX 75078
469-778-4241
https://www.facebook.com/reliablegaragedoorrepair
https://www.pinterest.com/reliablegaragedoorrepair
https://www.linkedin.com/company/reliable-garage-door-repair-tx
https://www.youtube.com/channel/UC0073vh5QZN5qkUhz-CbxJQ
Experienced. Fast. Reliable.
Our experts are here to help 24/7.