How to Fix a Noisy Residential Garage Door?
Do you hear deafening noises or strange sounds every time you pull in and out of your residential garage? Well, your rackety garage door may be pointing to a significant problem that will need to be adequately dealt with as soon as possible!
Having a garage is a great benefit to owning a home, but hearing noises like banging, rattling, scraping, squeaking, rubbing, grinding, slapping, vibrating, squealing, or popping can be a nightmare, to both you and your neighbors… If the dreadful noise was not enough, the source of the noise could take the wraps off an even bigger problem! The good news is, many of these annoying, extraneous sounds coming from your garage door (and the issues within) can be eliminated entirely. It all begins with learning why your garage door is making noise in the first place.
(Keep in mind that if your garage door is difficult to operate, if it opens faster than usual or if the rollers have derailed from their tracks, DO NOT TRY to fix your door! Working with any of the above conditions can put you at risk of life-threatening injuries. It is always a more sensible idea to get in touch with the dedicated team of garage door repair experts at Reliable Garage Door Repair immediately.)
Rollers
The most likely cause of squeaking or grinding noise when opening or closing a garage door is a problem with metal rollers, so you might want to start with that.
Lubricate the metal rollers and all other moving parts of the door, including the chain assembly and the hinges until the noises taper off. (Keep in mind that nylon rollers or other plastic garage door components have a smoother operation, and must not be lubricated as lubricants severely degrade these materials.)
If oiling the components does not help, replacing your rollers is what you should do to reduce the operating noise of your garage door.
Track
If your garage door makes rattling noises as it moves along the track supports, this may be a sign of loose or missing track bolts and screws.
Using a wrench and socket set, re-tighten all loose screws and bolts to potentially quiet the garage door almost completely, but be careful not to over tighten. In case of missing bolts and screws, buy new ones! Again, don't forget to lubricate the inside of each track to prevent the rattling from happening in the future.
Springs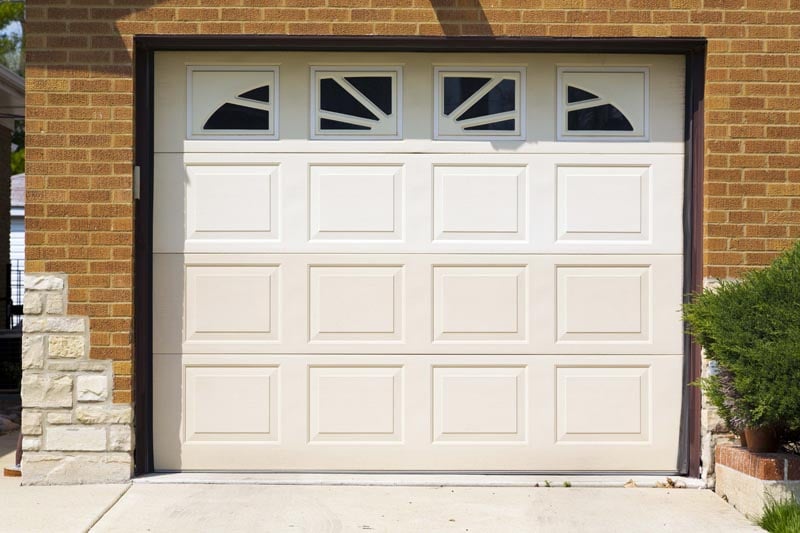 The springs used in the garage door's lifting system can contribute to the level of noise and even damage the door's operation altogether. After all, malfunctioning springs can result in the garage door hitting the cement floor too hard.
Spray the torsion springs that can be found above the door after you have closed it with lubricants, using enough lubricant to flow down to the base of the springs by the tracks on the sides of the door, also known as extension springs.
A word of caution: springs can be deadly, which is why any task related to spring repair is better left to professionals.)
Electric Operator
If your garage door opener is over 20 years old, it may not have proper safety features such as sensors and rolling code technology. Older units traditionally use a steel chain for operation, but newer models are considerably quieter. Look for a unit made with a rubber belt, with metal wire reinforcing, which will reduce noise drastically. To minimize vibrations, make sure your new operator has the motor insulated inside its metal case.
If you are not ready to buy a replacement system but have an older electric operator with a chain, consider purchasing a noise isolator system or vibration dampening kit. Many operators are connected to the garage ceiling by metal supports, so even adding small pieces of rubber between bolts will help reduce vibrations before they make their way into the support frame and the adjoining rooms of your home.
Keep Up With Garage Door Repairs
You may prefer to do your own home maintenance tasks to save some money, but it is crucial to understand the severity of the problems and be realistic as to how difficult they can be to fix. Sure, some repairs, such as adding lubricant to moving parts to prevent squeaking or scraping sounds or checking and tightening loose bolts can be easily done by you, but if the problem is not easily identifiable, it would be advisable to seek the advice of a professional garage door repair company.
Calling in a professional to take care of your garage door repairs makes sense if you want the work done professionally and safely. They can easily identify the problem and quickly determine how to fix it. If a significant component ceases to function correctly and new parts need to be ordered and installed, they can help with that too! Also, a complete door replacement is not really something a non-professional can do on his or her own. It is an extremely cumbersome feat to achieve, and if you are not well-prepared, it can cause severe injury or even death!
Looking For Fast Garage Door Repair in North Texas?
Do you want peace of mind that your garage door is being dealt with properly by skilled and seasoned professionals and that you don't have to deal with its weird noises ever again? Get in touch with the team of garage door experts at Reliable Garage Door Repair today! We will help you maintain the condition of your door and keep it in good shape to ensure it lasts you for decades to come.
Reliable Garage Door Repair offers same-day 24/7 emergency garage door repair for residential and commercial properties in the North Texas area, backed by 35 years of experience.
Areas We Serve:
Prosper, TX
Frisco, TX
Aubrey, TX
Little Elm, TX
The Colony, TX
Denton, TX
Celina, TX
McKinney, TX
Princeton, TX
Allen, TX
Plano, TX
Richardson, TX
Dallas, TX
Carrollton, TX
Grapevine, TX
1061 N Coleman
Prosper, TX 75078
469-778-4241
https://www.facebook.com/reliablegaragedoorrepair
https://www.pinterest.com/reliablegaragedoorrepair
https://www.linkedin.com/company/reliable-garage-door-repair-tx
https://www.youtube.com/channel/UC0073vh5QZN5qkUhz-CbxJQ
Experienced. Fast. Reliable.
Our experts are here to help 24/7.