There are various materials to be used for garage doors. Some of the options include: wood, steel, aluminum, and glass material. Today we'll go over all these options so you can figure out which one works the best for you.
1. Wooden Garage Doors
The wooden material for the garage door is the finest choice because the wood used is refine and good if ordered from a good place. The USA-made wooden garage doors are famous for its sustainability and natural look, they are best in design and durability. The USA designed wooden garage doors are best to use if you have a good artistic taste in furniture and home furnishing.
Some of the designs to look are as follows: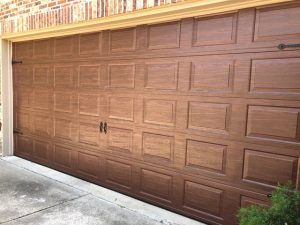 These carriage house styled garage doors use Redwood. They are the latest in trends when it comes to garage door selection. These doors are available in a variety of designs and styles. The door can be coated in different paints and shines depending upon the preference of the customer. The main advantage of a wooden door is obviously its looks. Wooden doors feel homey, and give a representation of quality. The downsides to wood doors are maintenance and functionality. They usually are not automatic like classic garage doors, and are usually more affected by weather.
2. Steel Garage Doors
Steel garage doors are more popular nowadays, for they not only provide strength and protection but they also provide a stylish look to your garage door. Steel garage doors contain the greatest variety in terms of style and sizes. The steel garage doors range from classic collections to artistic panel garage doors. Steel doors can be painted in different metallic colors to match the style of your home. Steel doors can be insulated or non-insulated, depending upon preference. The best thing about steel doors is they are multi-layered with greater durability, dent resistance, and reliable to use.
3. Aluminum & Glass Garage Doors
Aluminum and glass garage doors are rust proof and erosion resistant, which works best in all seasons. These doors are fairly durable and perfect to be used in modern homes. These doors can be painted and coated according to your choice and budget. The aluminum and glass garage doors come in different sizes and panels giving you a wider variety to select from according to your home's style.
4. So Which One Do You Pick?
There are two things to think about when picking the perfect type of garage door: style and functionality. Wooden doors are probably some of the best aesthetically, but they don't have the functionality of other doors. Plus they are a little harder to maintain due to weather. As a result, most people go with aluminum or steel doors.
If you'd like to talk to a professional, we can walk you through which type of door would be best depending on your specific needs. Then we can get you taken care of as quickly as possible!
You can also feel free to ask any questions you have in the comments section below.
For all your garage door needs, trust Reliable Garage Door Repair!
Reliable Garage Door Repair offers same-day 24/7 emergency garage door repair for residential and commercial properties in the North Texas area, backed by 35 years of experience.
Areas We Serve:
Prosper, TX
Frisco, TX
Aubrey, TX
Little Elm, TX
The Colony, TX
Denton, TX
Celina, TX
McKinney, TX
Princeton, TX
Allen, TX
Plano, TX
Richardson, TX
Dallas, TX
Carrollton, TX
Grapevine, TX
1061 N Coleman
Prosper, TX 75078
469-778-4241
https://www.facebook.com/reliablegaragedoorrepair
https://www.pinterest.com/reliablegaragedoorrepair
https://www.linkedin.com/company/reliable-garage-door-repair-tx
https://www.youtube.com/channel/UC0073vh5QZN5qkUhz-CbxJQ
Experienced. Fast. Reliable.
Our experts are here to help 24/7.