Garage Door Service vs. DIY
Deciding between getting garage door service and doing it yourself can be tough. Some people just call a service without giving it a second thought, but some are a little more skeptical. So we put together some items of interest to think about when deciding which to choose, as well as how to find a reliable garage door repair service you can trust. Let's get started!
Time (Winner: Garage Door Service)
Your time is valuable. So valuable in fact, that it may actually cost you more to do it yourself than it would to get garage door service from a professional. Think about the amount of time it would take to perform the repair yourself. First, you have to buy the parts to replace the one's that are broken. Then you have to make sure you have all the tools necessary for doing the repair. For example, if your spring breaks you are going to need a pair of winding bars (which are not particularly common tools) and specific sized wrenches. You will also need a spring. Then, after you get all of that together you have to figure out how to replace it. Sure, there is very useful content out there for how to replace your garage door spring. However, by the time you add up getting the tools, parts, learn how to do it, and then actually do it, you look up and hours or a whole day has gone by. A professional garage door service can have it done much quicker.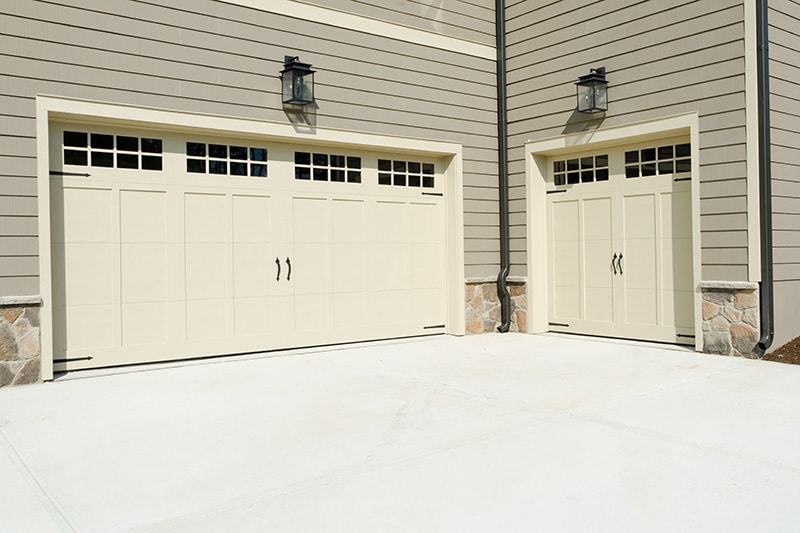 Convenience (Winner: Garage Door Service)
Obviously, a garage door service takes the win here. Yet, to some people it does not seem so obvious. If you've never had your garage door repaired, or you if you had a bad experience, we're here to tell you how it should be. Here's how most garage door service companies work. You give them a call, tell them where you are, and they get service to you that day. Sometimes they can even get service to you within an hour or less. How? A little bit of professionalism, and a little bit of luck. They have techs out repairing doors every day. So, how quickly they get to you depends on how many techs they have and how busy they are at a given point on a given day. Now, there are bad companies out there who charge as much as they can, and offer low-quality service. However, there is a pretty easy way to figure that out before-hand that we address at the end of this post.
Assurance (Winner: Garage Door Service)
Some may disagree with this. After all, some people are very handy and trust their hands' work more than they do some strangers. So why trust it to a garage door service? Because your garage door is likely the biggest piece of machinery in your home. So this is about more than confidence in yourself. It is about betting the safety of yourself and of others when you decide to do it yourself. Of course we as a garage door service recommend letting our professionals take care of it, but we're also not going to say you can't fix any problem with your door. If it's a simple sensor problem or battery problem, of course, take care of it yourself. We would even recommend taking some steps to make sure your door is actually broken before calling a garage door service. But, if it is something serious like a broken spring, you'll be glad you just let a professional take care of it.
Money (Winner: DIY)
There is no question that the parts you would need to replace your garage door are cheaper than the cost to have them replaced. And hey, sometimes DIY projects can be fun right? As we have covered above though, there is more to consider when dealing with a big piece of machinery like your garage door. Ultimately, you should do whatever makes you and your family the most comfortable. It is our professional opinion that a garage door service is the right decision most of the time.
So What Do You Do?
If you're still unsure what to do about your garage breaking, then you are probably looking for assurance about what garage door service to use. Well, there's a great way to get that assurance. Reviews! In today's online market place there are an abundance or places you can go to look at reviews. Google, Yelp, and Facebook reviews are a good top 3 to begin your search. Just check out what other people are saying and be wary of overly negative or overly positive reviews. Yelp, for example, has an algorithm that tries to weed out fake reviews. But it's not perfect, so look for genuine reviews from real customers (also be sure to check out 'non-recommended' reviews on Yelp).
Reliable Garage Door Repair offers same-day 24/7 emergency garage door repair for residential and commercial properties in the North Texas area, backed by 35 years of experience.
Areas We Serve:
Prosper, TX
Frisco, TX
Aubrey, TX
Little Elm, TX
The Colony, TX
Denton, TX
Celina, TX
McKinney, TX
Princeton, TX
Allen, TX
Plano, TX
Richardson, TX
Dallas, TX
Carrollton, TX
Grapevine, TX
1061 N Coleman
Prosper, TX 75078
469-778-4241
https://www.facebook.com/reliablegaragedoorrepair
https://www.pinterest.com/reliablegaragedoorrepair
https://www.linkedin.com/company/reliable-garage-door-repair-tx
https://www.youtube.com/channel/UC0073vh5QZN5qkUhz-CbxJQ
Experienced. Fast. Reliable.
Our experts are here to help 24/7.