Preparing Your Garage Door For Winter
Winter is coming and it is time to start preparing for it. One thing you will want to do to save yourself some headache is prepare your garage door for winter. The good news is this isn't difficult to do at all. It's not expensive either! This post will guide you through some regular maintenance you can do to prepare your garage door.
Lubricate Your Spring
The last thing you want in the winter time is for your spring (located just above your garage door) to break. A broken spring is the most common problem with any garage door not working and the cold weather can make it more likely to happen. Lubrication can help prepare you garage door for winter because it helps with freedom of movement. Now, most people think "okay, my equipment is starting to freeze so I'll just make sure to use it every day and maybe spray some WD-40 if need be!" We know that WD-40 is magical and normally when you couple it with duct tape you can fix anything. However, it is not what you use to prepare your garage door for winter. What you want to use is white lithium grease spray. It is a bit more heavy duty than WD-40 and works much better for lubrication. WD-40 is really just for fixing squeaky equipment. White lithium spray will generally run for about $10 and can be found at most general stores. Once you have it, just spray you spring down with it just like you would other things with WD-40 and you should be good to go!
Check Your Roller Tracks
If your rollers are misaligned or your track is bent, it can make your door more likely to break. This is a simple check but important, because if your rollers fall off your track then you could have a serious problem. Especially in the winter because a broken door could prevent your garage door from keeping weather out. So, basically you first want to check all the rollers which can be found on the left and right hand side of your door. Make sure they are perfectly in line with your tracks. If one looks like if it were to roll it would not move perfectly up and down, then you need to adjust it. There are videos online that show you how to make this adjustment, or you can always call a professional for maintenance which our customers have always found to be an easier solution.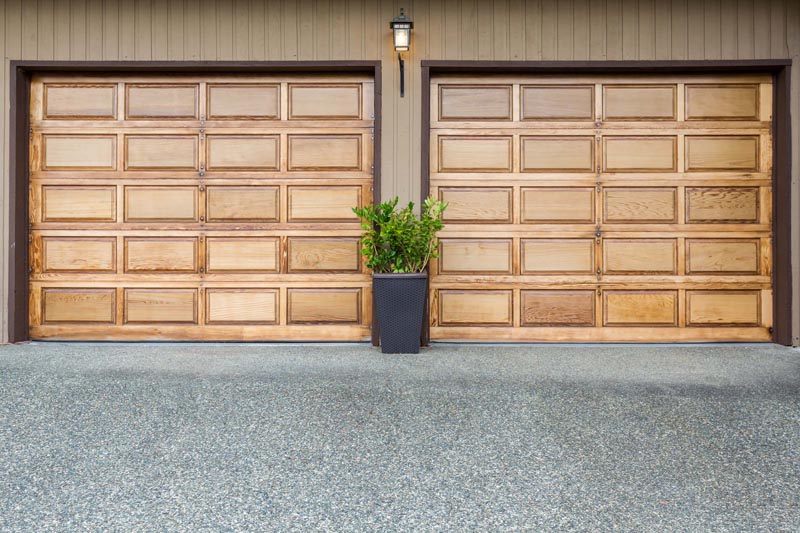 The other thing to check is the tracks themselves. The track should obviously be perfectly straight up and down. If you look at them from the side they should be closer to the door's frame at the bottom and then move slightly away as it goes up. If your tracks are not straight, then it won't matter how perfect your rollers are. This repair is a bit more complicated and we would definitely recommend calling a professional to see what needs to be done. In the end, you'll be happy you had a professional prepare your garage door for winter rather than risking a timely DIY repair.
Check The Weather Strip
In preparing your garage for winter, it seems obvious to check the weather strip. Garage doors are a big piece of machinery though, so it is easy to get lost in all that could go wrong without thinking about something so small. Weather strips can cost you a fair amount of money if they are not in proper working condition. They do a lot to keep weather out of your home, and in making it easier for your home's heating system to work. A dysfunctional weather strip could mean a higher utility bill. This is a simple $15 to $20 fix that could save you hundreds of dollars.
Cover External Opener
If you commonly use an external garage door opener you may want to get a cover for it. We see a surprising number of people without covers, and they can be especially helpful for preparing your garage door for winter. Frozen over equipment tends to not work, and a cover is a cheap and easy way to prevent it. Most covers will run between $10 and $20, so do yourself a big favor and go out and grab one!
Listen For Odd Noises
If you have read any of our maintenance tips before, this is always on the list. It is easy to put on your music and not even hear anything in your garage when you use it. But listening to your garage door can be the best way to monitor it and make sure everything is okay. Except for broken springs which usually happen without warning, you can usually detect most garage door problems before they happen if you listen closely enough.
We hope you enjoyed this post and as always if you have any questions or are in need of some assistance with your garage door, feel free to reach out to Reliable Garage Door Repair.
Reliable Garage Door Repair offers same-day 24/7 emergency garage door repair for residential and commercial properties in the North Texas area, backed by 35 years of experience.
Areas We Serve:
Prosper, TX
Frisco, TX
Aubrey, TX
Little Elm, TX
The Colony, TX
Denton, TX
Celina, TX
McKinney, TX
Princeton, TX
Allen, TX
Plano, TX
Richardson, TX
Dallas, TX
Carrollton, TX
Grapevine, TX
1061 N Coleman
Prosper, TX 75078
469-778-4241
https://www.facebook.com/reliablegaragedoorrepair
https://www.pinterest.com/reliablegaragedoorrepair
https://www.linkedin.com/company/reliable-garage-door-repair-tx
https://www.youtube.com/channel/UC0073vh5QZN5qkUhz-CbxJQ
Experienced. Fast. Reliable.
Our experts are here to help 24/7.