Quick and Easy DIY Garage Storage
Ah, the age old icon of the jam-packed garage filled with random clutter accumulated over the years. Can't find a place for it? Doesn't belong in the house? Throw it in the garage! It's always been so easy to just disregard things to the garage. Well, until you need something tucked deep within that intimidating abyss of a storage space. After a while, it becomes difficult to even navigate through the garage and ends up turning into a fully neglected no-man's land. Only if you had some organized garage storage…
If this is a familiar scenario to you then it's not to late to rescue what could be a very practical space for your family to use. It's as the saying goes. How do you eat an elephant? One bite at a time, so start biting… and more importantly, set up and organized system of garage storage.
You could be on the verge of the nightmare painted above, but are still able to navigate and locate items as necessary. Again, not too late, and pat yourself on the back for keeping your garage somewhat maintained. But it's time for some clever garage storage.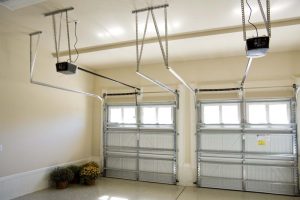 Or you may be in that glorious position and are starting fresh in a new home. In that case, it's the perfect time to start on the right foot with a DIY garage storage system. Whichever position you find yourself in, we're here to help. We've laid out several quick and easy DIY garage storage projects to help you stay on top of your garage.
Sliding Ceiling Storage
One of the most clever and efficient uses of space in your garage is to build a sliding storage systme above your garage door track. This space would otherwise go unused and is a perfect opportunity to free up other areas of your garage for more practical uses other than clutter. Sliding storage like this is also one of the easiest DIY garage storage projects you could undertake. This one's our favorite for the sheer bang for your buck and how much space you get in return. If you could do one thing to improve your garage storage space it should be this one.
Tape Dispenser
Tape is one of the most useful tools to keep around the house. Whether it's to ducttape engineer something or we need painters tape for a painting project or whatever else you need to use tape for, we can all agree tape is a staple. The only drawback is that common problem we all face when pulling a strip of tape off and the end sticks back to the roll… Especially with clear tape, that's the worst. Well struggle finding the end of the tape no more! Here's a clever and super simple way to manage your tape. It's easily accessible and will help you pull off the right tape strip with ease.
Hang Everything You Can
By taking everything off the floor and opening up all walking space you are dramatically increasing the utility of your garage. Creating a garage storage system on the walls of your garage is one of the easiest things you can to to improve your garage organization. There are several methods you can use. Putting up a pin board is very convenient. However, this may look a bit tack to some. Or you could just find the studs and install hooks. The possibilities really are wide open for how you can shift storage in your garage from the floor to your walls.
Manage Your Sports Balls
Let's be honest, no matter who you are, you probably have some deflated basketball, soccer ball, football, or whatever kind of ball just gathering dust and providing some cover for spiders in a corner of your garage. They may not even be deflated, but are still just rolling around hanging out wherever they're dropped. Some people use bins to keep their sport balls organized, but I think this idea is too simple to pass up- it's genius. By building a small wooden frame and using a couple of bungee cords you can have an easily accessible storage place for all your sports balls without having to worry about anything in the foot path. Plus, it adheres to our last garage storage idea.
Control Your Nails and Screws
Nails and screws managed improperly can just get annoying. Not only is it difficult to find the right nail/screw you need, but you end up having loose nails floating around everywhere. It's not like you're going to keep them in the original box, hah! That open box just sitting in your toolbox is a source waiting to pour nails out, resulting in that mixture of screws and nails at the bottom of your toolbox. Some toolboxes have handy compartments to keep your nails and screws separated, but here's a great way to manage all your screws and nails in your garage.
Build Cabinets
Building your own garage storage cabinets is probably the most time intensive project on our list, but it is one of those projects that just makes sense. If you wnat to clear up any unnecessary clutter in your garage, having cabinets is a go to option to get organized. I just would make sure you have properly labeled storage bins so that it doesn't get out of hand when you start tossing various items in there.
While there are hundreds of other DIY garage storage projects out there in places like Pinterest, we've listed the few that we think will yield the highest reduction in clutter while maximizing your practical garage use space. Always be safe when undertaking any home project. And if you just so happen to damage your garage in the process you don't need to worry. You can rely on Reliable Garage Door Repair to get your garage door back on track!
Reliable Garage Door Repair offers same-day 24/7 emergency garage door repair for residential and commercial properties in the North Texas area, backed by 35 years of experience.
Areas We Serve:
Prosper, TX
Frisco, TX
Aubrey, TX
Little Elm, TX
The Colony, TX
Denton, TX
Celina, TX
McKinney, TX
Princeton, TX
Allen, TX
Plano, TX
Richardson, TX
Dallas, TX
Carrollton, TX
Grapevine, TX
1061 N Coleman
Prosper, TX 75078
469-778-4241
https://www.facebook.com/reliablegaragedoorrepair
https://www.pinterest.com/reliablegaragedoorrepair
https://www.linkedin.com/company/reliable-garage-door-repair-tx
https://www.youtube.com/channel/UC0073vh5QZN5qkUhz-CbxJQ
Experienced. Fast. Reliable.
Our experts are here to help 24/7.