Smart Garage Door Openers
From thermostats, doorbells, lights, and even wall sockets, we are seeing a move to a more flexible and intelligent method of controlling our homes. With all of our home appliances being equipped with WiFi capabilities it's inevitable that we would see the same technology used for our garage doors as well.
As with any new technology nothing will be perfect. And especially with any WiFi enabled device there's a level of security that you will always want to make sure is in place. There are also a number of benefits to switching over to the smart model. Energy conservation, tracking usage data, and the flexibility to operate all of these devices from your phone are a huge advantage. That's why we've laid out a few of what we think are the best smart garage door openers. We want to make sure that you're making the right decision when it comes to modifying an entry point to your home.
Before we really dive into each of the various smart garage door openers available, here are a couple important factors you should keep in mind as you do your window shopping:
Does it have back up power
Is it compatible with older garage openers
Bluetooth or Wifi
Android or iPhone
Price point
All of these can make or break your experience when upgrading to a smart garage. That being said, let's get on to the list!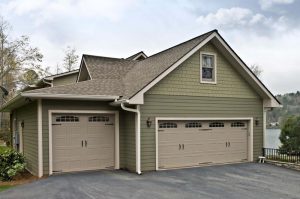 Chamberlain Whisper Drive Wifi Garage Door Opener
The Chamberlain Whisper Drive smart garage door opener is known to be impressively quiet and is rich with user-friendly functionality. This model is compatible with MyQ and is ideal for homes with a living space directly above the garage. Much like the Ryobi listed below, the Chamberlain Whisper garage door opener has a battery backup so you'll still be able to get in and out of your garage even when the power goes out (up to 20 open/close cycles). We also like the timer feature that will automatically close your garage from 1 to 10 minutes after you drive out. This is certainly one of the better models available. This is also one of the pricier models coming in at $297 (complete package).
Chamberlain MyQ CIGBU Gateway Wifi Garage Door Opener
This option may make the most sense for anyone looking for cost efficiency coming in at a mere $40. It's not an actual smart garage door opener, but is a module to your existing module. You'll notice that several of the openers listed here actually use this MyQ technology for WiFi capabilities. This device allows you to remotely control your garage door opener and lighting. This unit works with Chamberlain smart garage door openers enabled with MyQ compatibility.
Coming in at $170 the Asante smart garage door opener module is compatible with most garage door openers. HOWEVER, these are not compatible with MyQ enabled openers. As opposed to some of the smart openers available, the Asante can work with up to two garage doors per unit. It also comes with a camera for live streaming video of your garage at no additional monthly fee. These cameras are also enabled with infrared so you'll always be able to monitor what's going on in the biggest entry point to your home.
This is probably the most tech friendly module on our list. Again, it's not an opener, but at $200 it will turn your existing opener into an elite unit. One of our favorite features of this module is its ability to interact with the Amazon Echo. You can just give Alexa a simple command to open or close your garage door with ease. It's compatible with over 240 garage door opener models. Still, you always want to check compatibility with your opener. Garageio's setup is quick and easy. All you need to do is install, connect to wifi, and download garageio app. Another great feature for Garageio is the ability for you to give family and loved ones access to your Garageio if they ever need to swing by the house or you're out of town.
You can't go wrong with any opener equipped with MyQ and the Liftmaster MyQ smart garage door openers are no different. As the same with the Chamberlain models we've mentioned, Liftmaster uses the same MyQ technology. And just like with Chamberlain, you can either buy an already WiFi enabled unit or the module for those openers compatible with MyQ. Liftmaster's biggest claim is their Security 2.0 technology which is supposed to 'increase range and reduce interferance'. With all of the bells and whistles you'd expect from a top of the line smart opener you can't go wrong here.
The Ryobi system is built with customization in mind. This smart garage door opener has several modules available to accommodate whatever your specific needs are. For example, Ryobi offers a bluetooth speaker module so you can listen to your favorite music from your opener while you're hard at work. A few of the other modules they offer for this smart garage door opener are park assist (like the old school tennis ball method, but with lasers), a power cord reel, and a CO2 sensor, among others. And, of course, any garage investment wouldn't make sense unless it were controllable remotely via phone app. This one's our personal favorite, and at 2hp it's the most powerful on our list.
Whichever smart opener you decide to go with, you can always count on Reliable Garage Door Repair to help with installation, maintenance, and any repairs you need. Just give us a call at 469-778-4241!
Reliable Garage Door Repair offers same-day 24/7 emergency garage door repair for residential and commercial properties in the North Texas area, backed by 35 years of experience.
Areas We Serve:
Prosper, TX
Frisco, TX
Aubrey, TX
Little Elm, TX
The Colony, TX
Denton, TX
Celina, TX
McKinney, TX
Princeton, TX
Allen, TX
Plano, TX
Richardson, TX
Dallas, TX
Carrollton, TX
Grapevine, TX
1061 N Coleman
Prosper, TX 75078
469-778-4241
https://www.facebook.com/reliablegaragedoorrepair
https://www.pinterest.com/reliablegaragedoorrepair
https://www.linkedin.com/company/reliable-garage-door-repair-tx
https://www.youtube.com/channel/UC0073vh5QZN5qkUhz-CbxJQ
Experienced. Fast. Reliable.
Our experts are here to help 24/7.