Troubleshooting Your Garage Door
Sometimes people call a garage door technician to fix their garage door when nothing is actually wrong. Not everyone knows how to go through troubleshooting their garage door. So, we put together a small list of the most common things that can prevent your garage door from opening without it actually being broken. Hope this saves you some service calls!
Is The Opener Plugged In?
We know, this sounds ridiculously obvious. But sometimes one person will unplug the opener to do some maintenance and forget to plug it back in before they go to the house. Then, when the next person comes in they assume the door is broken. Before you know it, you've spent $39 dollars on a service fee for a garage door tech to tell you to plug in your garage door opener! Always make sure your opener is plugged in.
Is Your Opener In Manual Mode?
This problem is similar to the previous one. Another step people often take when doing garage maintenance is to pull the string that hangs overhead at most garage doors in order to put it in manual mode. Manual mode separates the opener from the garage door so you can physically open the door with your hands, and make sure everything is moving like it should. In manual mode, your remotes obviously won't work. But, if you weren't the one to put it in manual mode, or you just forgot, you might think something is broken! You might want to check if your door is in manual mode before calling someone.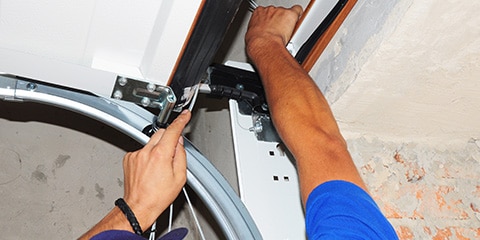 Is There A Manual Lock?
Often times there will be a manual lock on the door in order to protect from intruders. Sometimes people don't use them very often though. Then one person will use it, and the next will not know why the door is not opening and call someone. You can locate the manual lock by looking for a handle somewhere in the middle of your door. The handle will have two bars going out horizontally to either side of your door. When the handle is turned a certain way it locks your door in place. Check and see if you need to manually unlock your door before calling someone.
Is Something In The Way Of The Sensors?
The sensors are there to make sure nobody gets hurt. Sometimes there will be something small like a glove, ball, or even a cobweb that just got too thick. Either way, blocked sensors can make your door not want to close. If your door is not closing, always check your sensors before calling a garage door technician.
Are Your Batteries Dead?
This is another annoyingly simple one. Sometimes people get very unfortunate and their batteries in their remote or mounted remote will run out, and they think there is something wrong with their door. This is however one of the best problems to have with your garage. Because there's nothing actually wrong with your door, you can still manually open it and get in and out of your home. It's just not nearly as convenient as simply pressing a button. Check your batteries if your opener is not responding to button presses before calling a technician about your garage door.
Well, that's pretty much everything that can be wrong without their actually being a problem with your door. Hopefully that helps you save some money in technician service calls. If you have any questions or comments feel free to leave them below or give us a call if you've checked all these and still need a repair!
And of course, always remember, if you're in need of a garage door repair or maintenance check, feel free to give us a call at (469) 778-4241.
Reliable Garage Door Repair offers same-day 24/7 emergency garage door repair for residential and commercial properties in the North Texas area, backed by 35 years of experience.
Areas We Serve:
Prosper, TX
Frisco, TX
Aubrey, TX
Little Elm, TX
The Colony, TX
Denton, TX
Celina, TX
McKinney, TX
Princeton, TX
Allen, TX
Plano, TX
Richardson, TX
Dallas, TX
Carrollton, TX
Grapevine, TX
1061 N Coleman
Prosper, TX 75078
469-778-4241
https://www.facebook.com/reliablegaragedoorrepair
https://www.pinterest.com/reliablegaragedoorrepair
https://www.linkedin.com/company/reliable-garage-door-repair-tx
https://www.youtube.com/channel/UC0073vh5QZN5qkUhz-CbxJQ
Experienced. Fast. Reliable.
Our experts are here to help 24/7.