What are the types of garage doors?
A well-installed and functional garage door is essential to the security and convenience of your home, keeping the unwanted elements and intruders away, and allowing easy access when you need it. Today, more and more people are starting to realize how garage doors can affect their home curb appeal. There are various types of garage doors to choose from for your property, including variations on style, operating system, and materials. Perhaps, you may get confused when making the right choice.
Relax! Here we are sharing a useful guide highlighting different types of garage doors on the basis of materials, size and operating mechanism. After reading this blog, you'll be in a better position to make a sensible decision.
Garage door types according to the type of material used
Wood
A wooden garage door can be your choice if you are a fan of wood. It has a traditional welcoming look that is sure to catch maximum attention. They are energy-efficient but they struggle when facing rain and snow. This is because they may get distorted or decayed when exposed to moisture. This will take away the look of your doors. Many homeowners do not prefer installing these doors as they require high maintenance. You also need to paint and stain them from time to time to retain their beauty. Also, the price to purchase and install these doors is much higher than the other types.
Aluminum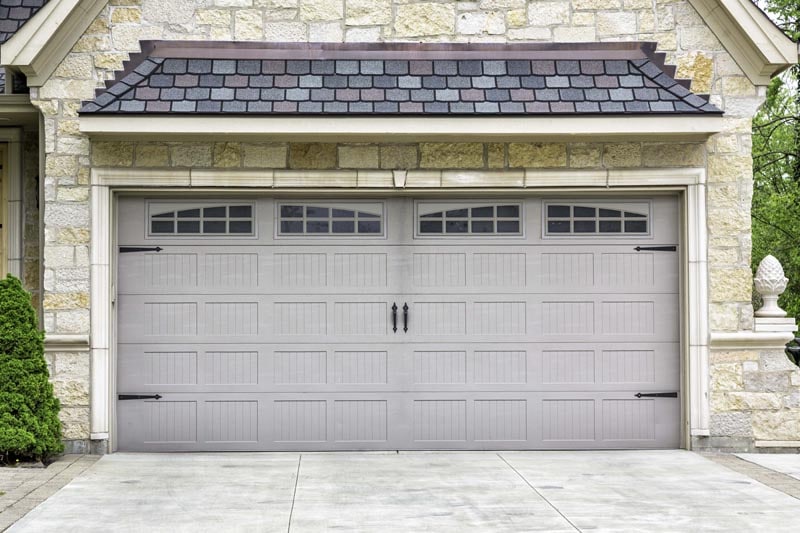 Traditional two car wooden garage
Aluminum garage doors are sturdier than the wooden garage doors. It can be made stronger with the help of frames and panels. When in touch with moisture, they do not wrap or rot. And, at the same time, they are also not so expensive. However, there are some pitfalls too. During summer, they will absorb heat and result in making your garage warm. These garage doors also dent very easily than other types of doors. Strong winds, hailstones and children could cause damage to these doors easily.
Steel
Steel garage doors are the best choice when picking a garage door as you don't have to worry about the maintenance. It is a great cost-saving material. They are thick and sturdy and help you regulate the temperature in your garage. It will help you keep the noise and outside temperature out. They require less maintenance and won't rot or expand. Also, they do not require any painting or staining.
Glass
Glass garage doors are more fashionable than any other types of garage doors. You will not find this type of garage door too often. The reason is they are not completely safe. Although glass is thick and strong, they do not match the durability of steel, aluminum or wood. One of the reasons why some people prefer this option is they make the room feel larger.
Garage door types according to their opening mechanism
Sectional
Sectional garage doors are the most popular types of garage doors. The panels of these doors are broken in parts or sections, and they are held together by hinges. The hinges permit the panel to bend which affects how it opens.
Roll-up
Roll-up garage doors are a great option if you want to make most of the garage space. They are ideal for short driveways as they do not need external space to swing-out. Mostly, these kinds of garage doors are found in commercial garages, warehouses, and storage units.
Tilt-up
Tilt-up doors do not have sections. They tilt-up when you open them. There are two popular types, one is the tilt-up canopy garage doors and the other is retractable garage doors. The tilt-up canopy garage doors have spinning hinge system that raises the door upward. This helps the door to glide back corresponding to your garage ceiling. The retractable garage doors also works in the same manner. The only difference is that no part of door projects from the home when it is open.
Others
Single and Double
You will find two types of garage doors based on the size. They include single as well as double garage doors. Single doors allow one car to pass through, whereas double doors are ideal for two cars. The ideal width of a single door is 8 feet, while that of the double door is 16 feet. But the width may vary depending on the individual needs. So, it is important you should measure before investing in a single or double door.
Cookie-Cutter and Custom-Built Garage
You can also decide between a cookie-cutter and custom-built garage doors. You will find the cookie-cutter option at any home improvement store. And you will get the same thing that you see in the store. On the other hand, custom-built garage doors are built only for you. They can be changed, from size, color window inserts, and hardware; to meet your specific needs.
A wide variety of garage doors to fit your needs and budget
You will find a wide variety of doors available in the market for you. From materials, size and how the door operates, you will find many types for your property. Whatever type of door you decide on, it is important you seek the advice of an experienced garage door repair company.
At Reliable Garage Door Repair, our team of courteous and experienced professionals will make sure you get the right garage door for your home or commercial property. We provide high-quality garage repair services in North Texas. We are here to provide you the help you need because we are abreast of the latest industry updates. Get in touch with us to know more about us.
Reliable Garage Door Repair offers same-day 24/7 emergency garage door repair for residential and commercial properties in the North Texas area, backed by 35 years of experience.
Areas We Serve:
Prosper, TX
Frisco, TX
Aubrey, TX
Little Elm, TX
The Colony, TX
Denton, TX
Celina, TX
McKinney, TX
Princeton, TX
Allen, TX
Plano, TX
Richardson, TX
Dallas, TX
Carrollton, TX
Grapevine, TX
1061 N Coleman
Prosper, TX 75078
469-778-4241
https://www.facebook.com/reliablegaragedoorrepair
https://www.pinterest.com/reliablegaragedoorrepair
https://www.linkedin.com/company/reliable-garage-door-repair-tx
https://www.youtube.com/channel/UC0073vh5QZN5qkUhz-CbxJQ
Experienced. Fast. Reliable.
Our experts are here to help 24/7.