Which Garage Door Rollers Should You Use?
Garage door rollers come in different types. The basic types are nylon, plastic, and steel. All the garage door rollers have a steel stem with wheels at each end. The things that make the rollers different from each other is the properties of the wheel. Some of the wheels are made of plastic, while some of nylon and steel. Some rollers have ball bearings, which makes the quality fairly good and it only needs lubrication once a year. Whereas those without the ball bearings are of lower quality and they tend to deteriorate before the normally would. There is no special hint for figuring out if your rollers have ball bearings. You'll be able to see the ball bearings clearly. If the wheels of your garage door rollers are made of plastic you may want to think about replacing them. Plastic wheels tend to deteriorate much quicker than something like nylon. When plastic wheels roll in the steel track they tend to wear down. Over time this causes the wheels to get smaller and cause bad functionality in the long run. Steel rollers are good, but even they create damage for one cannot identify the damage if something goes wrong in them. Most experts' opinions tend to say nylon wheels are the best to be used for extended durable usage.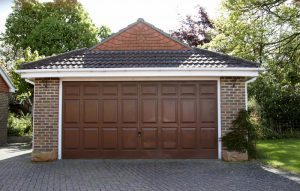 Good and established companies use nylon rollers because they are durable and top marks in functionality. If you plan to get ahold of the best roller brands then you can surely count on the following ones we listed out for you below:
Ultra-Quiet 2″ Nylon Garage Door Roller: It comes with 13-Ball Bearing & 4″ Stem. It is one of the best roller types with great durability and quality. The customers have rated it 8.8 out of 10, and is pretty popular with most garage door companies. Its smooth 13-ball bearing reduces rotational friction between roller and shaftEXTRA. The 13 ball bearing nylon roller wheels are much quieter than other steel or plastic garage rollers.
Nylon Garage Door Rollers: These 13 Ball Sealed Bearing garage door rollers are hitting the market with great success. Customers have rated it 9.4 out of 10 making it one of the best rated rollers to be used for your garage doors safely with little risk.
Ultra-Life 2″ Nylon Garage Roller: This garage roller comes with Sealed 13-Ball Bearing & 4″ Stem. It is available in packs of 10 and can be bought easily online. These garage doors are made of nylon material making it durable to be used in the long run. Clients have rated these garage rollers 9.7 out of 10 making it another great choice to think about. These rollers come with a lifetime guarantee and the company assures its customers that if it gets damaged they will replace it in no time. It is best to use because it keeps the dirt and dust out of reach and eases lubrication for great functionality.
Trust Reliable Garage Door Repair for all your garage door needs! Call us at 469-778-4241!
Reliable Garage Door Repair offers same-day 24/7 emergency garage door repair for residential and commercial properties in the North Texas area, backed by 35 years of experience.
Areas We Serve:
Prosper, TX
Frisco, TX
Aubrey, TX
Little Elm, TX
The Colony, TX
Denton, TX
Celina, TX
McKinney, TX
Princeton, TX
Allen, TX
Plano, TX
Richardson, TX
Dallas, TX
Carrollton, TX
Grapevine, TX
1061 N Coleman
Prosper, TX 75078
469-778-4241
https://www.facebook.com/reliablegaragedoorrepair
https://www.pinterest.com/reliablegaragedoorrepair
https://www.linkedin.com/company/reliable-garage-door-repair-tx
https://www.youtube.com/channel/UC0073vh5QZN5qkUhz-CbxJQ
Experienced. Fast. Reliable.
Our experts are here to help 24/7.