Why Your Garage Door Won't Open
4 Main Reasons Your Garage Door Won't Open
When your garage door won't open it not only ruins your day, but it makes you angry because most people don't understand why. It rolls up and down every day so why should today be any different! Today we are going to go through some of the possible causes as to what could be preventing your garage door from opening.
The Spring Is Broken
Your garage door spring is located just above the top of your door. If you look up and your spring is broken in half, then your garage door won't open. "Why the heck did it break", you may be angrily asking yourself? Simple wear and tear. Unfortunately, this is just something that happens with all garage door springs eventually. The only way to get your door back up and running again is to repair your spring. You can do it yourself, but that is quite a project. Most find it easier and more efficient to call a garage door repair company, like us!
The normal life expectancy of any garage door spring is about 3-5 years, but they can last even longer with proper maintenance. If you want your spring to last longer, try lubricating it. The standard practice is to do this 4 times a year. DO NOT use WD-40 to lubricate your door! We know, it fixes everything else, but it is not the best thing to use for lubrication. Professionals recommend anything with white lithium grease as the best product to periodically lubricate your garage door.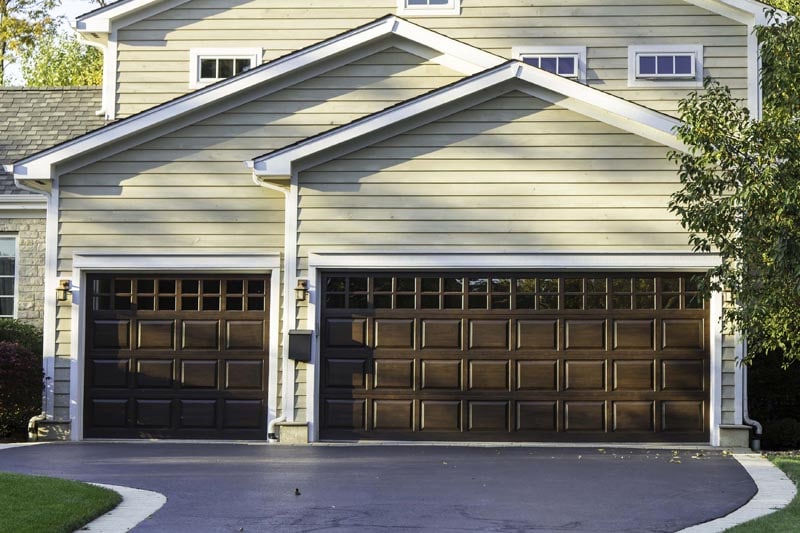 Rollers Can't Roll!
Over time there are countless things that could cause your roller tracks causing them to get bent or misaligned. Sometimes, because your rollers do go up and down those tracks so much, they can simply get off track or the track itself can get misaligned. Whatever the case, these are small problems that can turn into serious one's without proper attention. Why? Because the weight of your door can put a lot of force on your rollers if they are not aligned correctly, and it can become a safety hazard. Also, obviously, your garage door won't open. In this situation we recommend calling a professional. Yes, it is not a complicated repair. But, if this type of repair is not done properly you will be right back where you started in a month or maybe even less. Nobody wants that! Plus, good garage door repair companies can be out to see you the same day you call them and, in many cases, they can be as quick as an hour or two.
Dead Batteries
It's surprising how often we hear cases relating to dead batteries. It seems silly, but hey, we're all busy people. This is easy to overlook sometimes. Often it is because people think there's a bigger problem because they didn't check the small things. There are two devices you want to check the batteries in. Your transmitter and your remote. If your transmitter is dead, it cannot transmit the signal from the remote to the opener. If the remote is dead…well you know where this is going. We know, this is simple, but we hear about it so much we figured we'd at least cover it.
It's Locked
Weird how when it's locked your garage door won't open, isn't it? If you didn't notice it was locked, there are a couple of ways your door can be locked. Many doors come with a manual method for locking your door. This is for added security purposes. Manual locks are a small handle device in the middle of the door with two bars coming out of either side. To unlock it just turn the handle until you hear a "click" and you're on your way! The transmitter can also sometimes lock your door. You'll be able to tell if the light on your transmitter is rapidly blinking. To fix this, just hold down the open button for a few seconds until the blinking stops. Then try it again and, assuming everything else is working properly, you should be good to go!
Reliable Garage Door Repair offers same-day 24/7 emergency garage door repair for residential and commercial properties in the North Texas area, backed by 35 years of experience.
Areas We Serve:
Prosper, TX
Frisco, TX
Aubrey, TX
Little Elm, TX
The Colony, TX
Denton, TX
Celina, TX
McKinney, TX
Princeton, TX
Allen, TX
Plano, TX
Richardson, TX
Dallas, TX
Carrollton, TX
Grapevine, TX
1061 N Coleman
Prosper, TX 75078
469-778-4241
https://www.facebook.com/reliablegaragedoorrepair
https://www.pinterest.com/reliablegaragedoorrepair
https://www.linkedin.com/company/reliable-garage-door-repair-tx
https://www.youtube.com/channel/UC0073vh5QZN5qkUhz-CbxJQ
Experienced. Fast. Reliable.
Our experts are here to help 24/7.